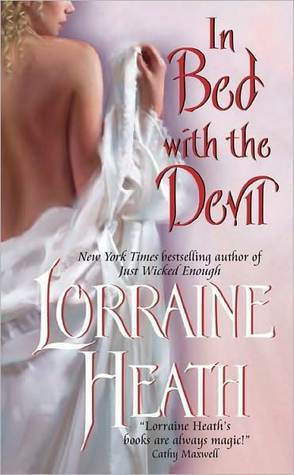 Synopsis
They call him the Devil Earl—a scoundrel and accused murderer who grew up on the violent London streets. A proper young lady risks more than her reputation when consorting with the roguishly handsome Lucian Langdon, but Lady Catherine Mabry believes she has no choice. To protect those she loves, she would do anything—even strike a bargain with the devil himself.
Lucian desires respectability and a wife above all else, but the woman of his choosing lacks the social graces to be accepted by the aristocracy. Catherine can help Lucian gain everything he wants. But what she asks for in exchange will put their very lives in jeopardy. When danger closes in, Catherine discovers a man of immense passion and he discovers a woman of immeasurable courage. As secrets from his dark past are revealed, Lucian begins to question everything he knows to be true, including the yearnings of his own heart.
******************************************
My Review
4 Stars!!
Sometimes you just need a good historical romance to curl up to and I have been meaning to read more Lorraine Heath books since I read one series which left me needing more. Her writing makes you want to carry on and you don't want to put the book down.
"You are in league with the devil, my lady.May you rest easier at night than I"
An entertaining sweet book with humour, romance, friendship and much more.I adored the main characters Lucian and Catherine. Even though in some parts I really wanted to shake Lucian and tell him to wake up.He jut longed for belonging and acceptance, he has always been quite lost and not being to place himself or regain memory of anytime before he was on the streets. Catherine was great, I liked how she was't this shy submissive or someone who was scared easily.She was refreshing and I liked how she fit right in with Lucian's friends even though her upbringing was so different to theirs.
I'm intrigued to find out how the rest of the friends turn out,what will their story be like and who they will end up with. I have to say I have mixed feelings about Jack, I liked his at the start and now I don't know how I feel. I feel like I will end up enjoying his book though. There is so much we don't know about him, he is all mystery, all we know is that he has a lot of walls up and he must have seen a lot of bad things as a child.
Frannie..hmm I'm not exactly a fan?I just feel like I won't enjoy her story or that I'm not too interested.Maybe because of how she seemed so weak and not assertive enough. I didn't really get her, she just didn't seem interesting enough. Oh well, we shall see, maybe she will change my mind.
I enjoyed the twists and turns in this book and how each character had a mystery element to them. You just need to know more about them and to do so you will have to continue on this series.
Hopefully I will get round to Jack's book soon but I need a change of genre, I like to keep switching it up ;)